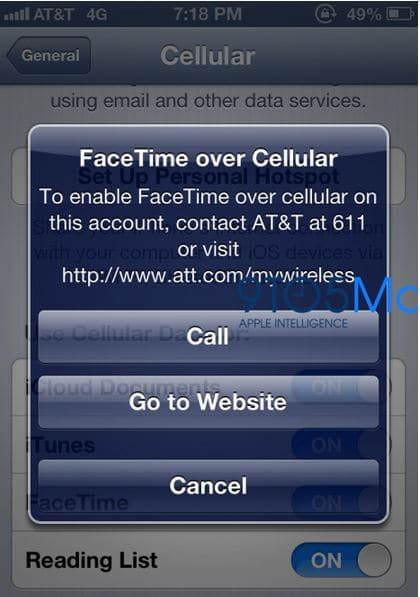 Well, it appears that AT&T will continue to decide what their customers should do and not do while using their cellular data. Currently limited to WiFi only in iOS 5 or below, Apple's iOS 6 will allow the use of FaceTime video calling over 3G/4G cellular data. Unfortunately, it looks like AT&T won't be enjoying FaceTime over 3G without paying AT&T a little extra. As discovered by 9to5mac, iOS 6 users might see this error while trying to use FaceTime over AT&T's cellular data 3G or 4G. This is what AT&T respoding regarding to this error:
We're working closely with Apple on the new developer build of iOS6 and we'll share more information with our customers as it becomes available.
This error shows up when the iPhone is restored to iOS 6 beta 3 or their network settings gets restore, according to 9to5mac.
(9to5mac)