We all love to save money+Apple products. When buying Apple products the best way to save money is by buying a refurbished Apple product instead of buying it brand new. A refurbished product is a defective product that has been taken to an Apple store and replaced instead of being fix. This defective product is then fixed by Apple and put it back sell and sell it as a refurbished product because it can't be sold as new. Since it's not sold as new, Apple sells it at a discount. This is why they are good.
1. A VERY LARGE DISCOUNT
The price between a refurbished Apple product and a new one is very big compared with shitty discounts you find on the internet. For example, buying the iPhone 4 (16 GB) refurbished is an instantly 50% off, you'd be saving $100 right there. AT&T sells the iPhone 4 brand new for $200 while the refusbhed one just cost $100.


(image source: MacGasm)
2. Refurbished Apple products same shit as new, clean and shiny 
Those item are just same as new. Apple fully test this devices and make sure they are clean with a new housing. Apple also replaces all the defective parts with brand new parts. You will also receive all packages including new cables, manuals and even new boxes. Apple also ship these devices with a clean new iOS firmware.
3. You receive one-year warranty for free
If you still have your doubt on refurbished products don't worry, Apple gives your one-year warranty! Apple covers its refurbished products with one-year warranty, doesn't matters if it is a Mac, iPod, iPad, or iPhone – you get your warranty.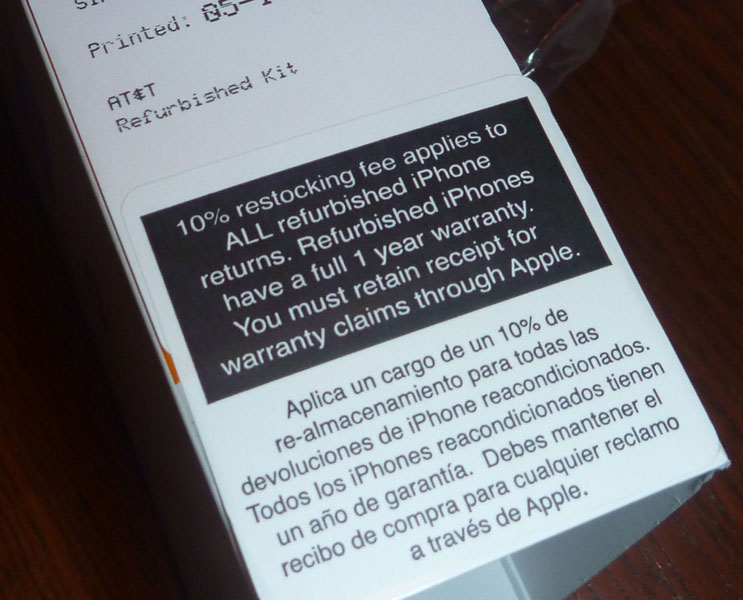 (Image source: Forums.MacRumors)
4. Refurbished Products are eligibe for AppleCare Protection Plan
Don't feel comfortable with the one-year warranty? Want more warranty? You can get more warranty! Apple refurbished products are eligible to join the AppleCare Protection Plan at any time.
5. It's a brand new product with a big discount
What else could possibly go wrong? Unless you're middle class or high class person and don't want your other high class friend to know you got a huge discount on an Apple product and he tells you: what the fuck aren't we rich? That would be embarrassing…