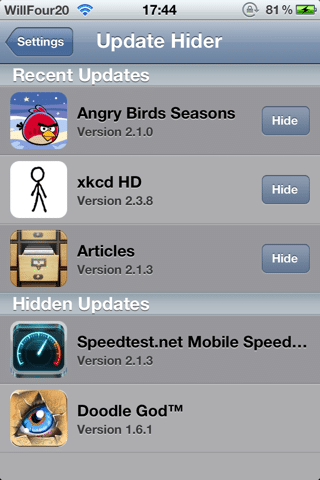 For the most part, updates are always good. When we update an app, we always update it expecting new features and improvements added it in the update. But unfortunately, that's not always the case. A lot of time developers update their apps to add advertisements on them. Some times developers or company redesign their app completely, and a lot of us hate changes. Like when Facebook updated their Facebook app for iPhone, many people hated the new design. That's when we have to stop updating those apps and keep updating the ones that bring good updates with improvements and new features. But sometime it's annoying  to see all updates for apps we want to update mixed with the updates for apps we do not want to update, this is likely to get you confused and update the app you don't want to update by mistake. This problem can easily be stop by using 'Update Hider for iOS 5' from Cydia.
Update Hider is a tweak for jailbroken iOS devices that lets you hide app updates in the App Store. With this tweak you can configure which apps you want to stop showing that it has a new update in the App Store. After downloading this tweak from Cydia, it will not add any extra icon or setting in your home screen. Instead, you will have a setting in the iPhone Settings.app to configure the update. This video below made by the developer of this tweak explains well:

Update Hider is available for iOS 5 or newer by downloading Update Hider for iOS 5. It can also be used on jailbroken device running iOS 4.2 or lower by downloding Update Hider. Both versions for iOS 5 or lower and iOS 4.2 can be downloaded from Cydia default repo BigBoss; and is free.
Another Cydia tweak for the App Store: