As we know, Facebook now owns WhatsApp. The messaging app was purchased by Facebook for $16 billion worth of stock and cash. Facebook is not a company that many people trust when it comes to their privacy, so the purchased of WhatsApp have made many users delete the app from their smartphone. But if you enjoy using messaging apps like WhatsApp instead of using the regular messaging app that comes pre-installed on your phone, WhatsApp is not the only messaging apps for smarphone users. There are many messaging apps, for both Android and iOS users, with better privacy and more secure than WhatsApp. Here are a few of them:
Threema
Threema messaging app assures you that only you and the intended recipient will read your messages. The app uses end-to-end encryption, so there will be no interceptions between you and your recipient messages. The developer of the app says that not with their end-to-end encryption method, not even them as the creator can read your messages stored on their server.
Threema is available for $1.99 on the App Store and Google play for Android devices.
Telegram Messenger
Another messaging app that encrypts your messages is Telegram Messenger. Telegram Messenger offers many features like letting you access your messages from multiple devices, self-destruct messages, fast messaging media delivery, and many servers around the world for security and speed.
Unlike Threema, Telegram Messenger is completely free with no ads or subscriptions requirements. The official Telegram Messenger app is available for iOS and Android devices. The app also have unofficial clients for Windows Phone, Windows PCs, Linux, and Mac which can be downloaded from telegram.org.
ChatSecure
ChatSecure lets you chat through encrypted and private messaging with your friends over Google Talk/Hangouts, Facebook Chat, Dukgo, Jabber. The messaging app uses s OTR encryption to secure your messages, so your conversations will not be intercepted. You can also encrypt you messages with an optional password for more security within the app. ChatSecure also deletes your messages history when the app is closed.
You can download ChatSecure from Google Play (Android devices) and the App Store (iOS devices). The app is completely free with no ads or paid subscriptions.
surespot
Another app that makes sure that your messages aren't hacked or intercept by someone else is surespot. Text message, image and voice message sent through surespot are encrypted using 256 bit AES-GCM encryption using keys created with 521 bit ECDH from both users end. Unlike most others (if not all) messaging apps, surespot does not use your phone number or email. The app also allows you to set multiple accounts on your device.
The surespot app can be downloaded on iOS and Android devices for free.
kik
For those who don't like to associate their phone number or SIM card with messaging apps, another app that doesn't do use your phone number is Kik. With Kik, you set a username which acts as your identity or phone number. Other people can message you via your Kik username, this way no one has to know your username or real name. There are many apps that don't use your phone number but most of those apps don't have many users, so it'll be difficult to contact friends or family with them. But Kik is different. The app has more than 100 million registered users so is likely that you'll find your friend there.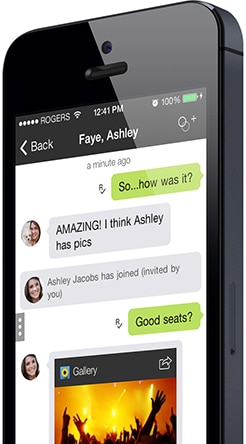 Kik is available across multiple platforms including iOS, Android, Windows Phone, Ovi, and BlackBerry phones. The app can be downloaded from Kik.com for those devices totally free.
Line
If calling and video chat is more important than text to you, then LINE is the app for you. Line offers everything in one. The app, which has over 360 million users worldwide, lets you make VOiP calls, video chat, text and media messages. Since the app works using your data or internet connection, communicating with international users is completely free.
LINE is available on multiple mobile and desktop OS. The app can be downloaded for free for iOS, Android, BlackBerry, Windows Phone, Firefox OS, and Nokia ASHA smarphones. Desktop users can also download the app on their Windows 7/8, Mac OS X computer for free at LINE.me.
 BlackBerry Messenger (BBM)
BBM social network app is one of the most secure messaging app out there. With the app you can make and receive VOiP calls from other users. The app feature real-time conversation letting users when their messages have been delivered and read. BBM protects your privacy by not needing a phone number or username to join. The app uses a PIN as your identity. You can also create a profile and set statuses through the app.
The BlackBerry Messenger app is available for free on Android, BlackBerry, and iOS devices, download it from BBM.com.
myENIGMA Secure Messaging
myENIGMA offers end-to-end encryption technologies to protect your text messages and multimedia content like pictures, videos, audio or documents. Data sent and received through the app are fully encrypted between you and your recipient, so non of your data is stored in plain text. To make sure no one is impersonating you or using your account without your permission, the app authenticate your account by a dual-channel communication based on your mobile number and your E-mail address. The app does not offer VOiP calls.
Qnective AG, the security technology company behind myENIGMA , have the app on iOS, Android, and BlackBerry devices for free. You can download this app for your device from their website at myenigma.com/download.
WeChat
Another app that has a large user base is WeChat. The app has over 300 million active users. With the app you can make clear voice and data connections using your cellular data or WiFi connection. The app offers real-time location sharing with walkie talkie.

The WeChat app is available across multiple devices for free with no ads or subscription. You can download it to your iPhone, Android, Windows Phone, Nokia, and BlackBerry at wechat.com/download.html.
Viber
A true messaging app that has everything-in-one is Viber. Viber offers VoiP calls with high audio quality, video chat, text and media messages, group chat and more. Right now the only problem with Viber is that it has not been update for iOS 7. The app doesn't look modern at an iOS device running iOS 7.
You can download the Viber app for your desktop computer, tablet, and smartphone. The app is completely free with no advertisements in it. Viber is freely available for  iOS, Android, Windows Phone, BlackBerry, Bada, Nokia, Windows, Mac, and Linux at viber.com.