Most iPhone users around the world still have their iPhone, iPad or iPod Touch, on stock firmware. But a lot of those folks don't know how much they're missing out and not running their device to full potential. The top reason that iOS devices users should jailbreak is because you can do what ever you want with your device with the hundreds of tweaks, apps and themes on the iPhone unofficial app store, Cydia. Yes anything you want, from unlocking your phone to running Android in it, and much more.
But here is why most people jailbreak and the best things about jailbreaking your device that will catch your attention and make you jailbreak your device.
Unlock your iPhone, use it on any other GSM network, and tell AT&T to go fuck them self
If you're an AT&T hater then jailbreak should be your best friend. If you have a jailbroken iPhone you have the ability to unlock it and use it on any other GSM network including T-Mobile USA and Simple Mobile with tools available to jailbroken devices only.
Customize the device homescreen and make it look unique from all other devices in the world
With a jailbroken device, you can change and customize your iPhone, iPod or iPad homescreen in any way you wish. You can change the font, icons, and anything you would like to replace to make it look better. For example, in the image below you can see how differently the springboard looks after adding a theme with a famous jailbreak application called WinterBoard.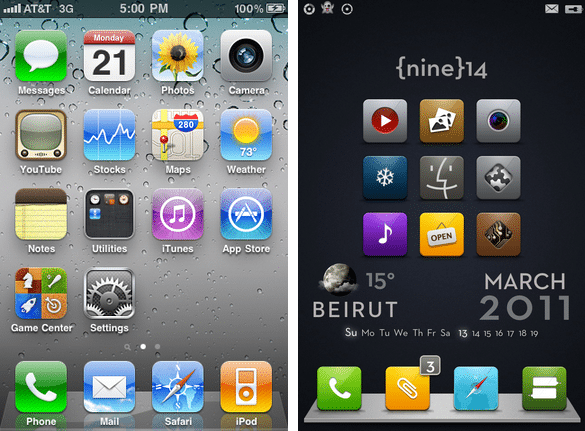 Hundreds of tweaks for anything you need
After jailbraking a device, you will find anything you need for your device. You will see things never seen before in the App Store. For example, if you don't like the App Store asking for your password every time you update or download an app, there's a tweak called PasswordPilot that prevent this from happening, that's just one of the many things you can do with a jailbroken device.
Love the ability to tweak your device? Now you will find the apps more interesting
The unofficial App Store called Cydia, for jailbroken device has all the amazing apps you will never find in the official App Store. Apple has strict policy for iOS developers when it comes to accepting their app so it can be display in the official App Store; all apps most be suitable for two-years old girls before been accepted onto the App Store so rejected applications end up in the unofficial Cydia app Store. So best apps for strong and grown iPhone users are in Cydia. You can  find many useful utilities apps such as AnyRing — which allow you to set any song from the iPod library as your ringtone, email or SMS tone; or YouTube 2 to directly download YouTube videos on your iPhone, iPad or iPod Touch.
Tell Apple that you pay taxes, carrier monthly bill, and the price of the device
Apple doesn't like people jailbreaking their iOS device – a device that you pay with your own money. Heck, they won't even fix your device if you take it to an Apple store to fix it and they find out is jailbroken. But that's not really a problem, because you can remove the jailbreak with just one click if you're taking it to get it fixed to your local Apple Store.
Jailbreaking the easiest thing ever, with no risks
You don't have to be a geek or a Linux user to jailbreak your device. There are many tools available that will easily jailbreak your device in less than a minute . If you're interest in jailbreaking your device all you have to do is go to JailbreakME.com on your device's browser and follow the easy instructions if you have the appropriate firmware. If you believe you have messed up your device while jailbreaking, no you didn't, all you have to do is restore your iPhone using iTunes and it will be as it was before.