Nowadays, thanks to the smartphone era, investing your hard-earned money is extremely easy due to the enormous amount of apps designed specifically for that. If you are looking to invest a few bucks in order to receive a return in profit, there are many apps to achieve that in different ways. And since these financial apps are developed by third-party developers, not by Apple or Google, you will not be locked to Android or iOS ecosystem if you ever decide to switch phone OS. Here are the 10 best investment apps you should be aware off if you looking into investing a few bucks.
Acorns: Invest Spare Change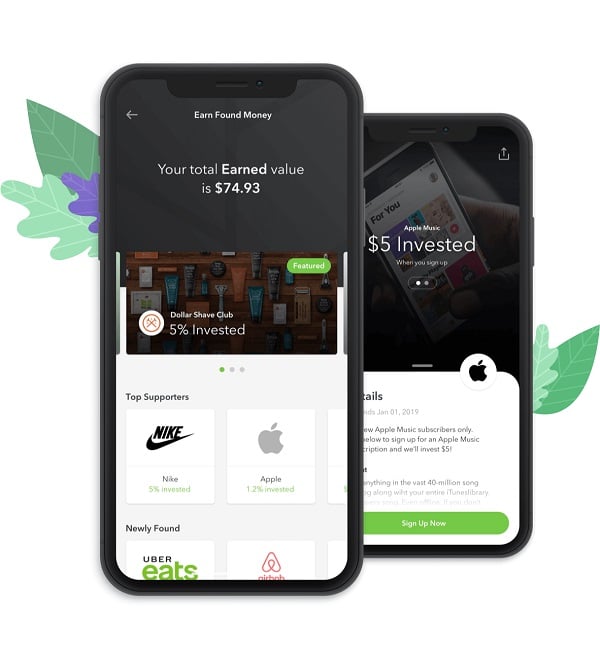 Acorns is a very basic investing app for those who want to save some money without getting into deeper stuff like the stock market. After setting up your PayPal, debit or credit card with Acorns, the service will start making automatic savings and investments to your Acorns account based on spare changes on daily purchases. Every time you make a purchase with the linked credit or debit card, Acorns will round-up that purchase to the nearest dollar and accumulate that spare change into your account. Once your account reach the five dollar mark, Acorns will make an investment using those five dollar in a portfolio of your choice. Acorns also offers a web client for those who do not want to use the mobile app.
Learn more about Acorns at Acorns.com
Robinhood: Invest. Buy. Trade.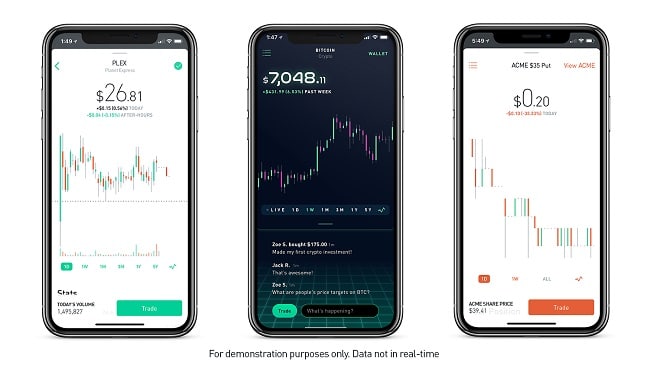 If you want to get more serious about investing by going to the stock market, you should really consider the Robinhood app as a beginner. Robinhood has made its name in the financial industry by bringing something very unique to the trading and brokerage industry: the company does not charge you money when you execute a trade. You can invest in any company or ETF without having to pay commission fees. The app has a great design with a ton of information about any particular stock. Within the app, you can invest in stocks, options, various ETFs, and cryptocurrencies.
Learn more about Robinhood at Robinhood.com
Clarity Money – Budget Manager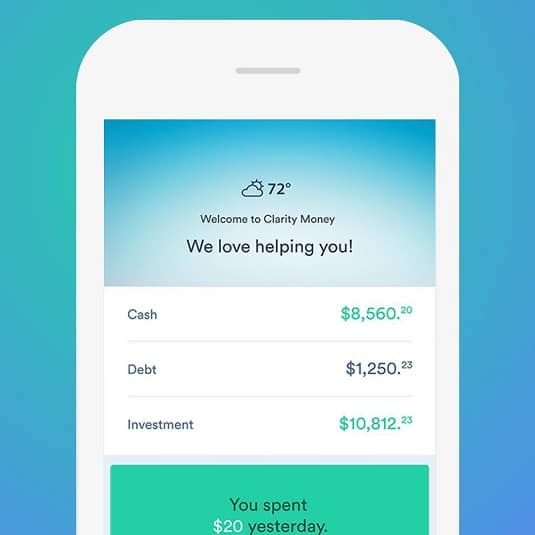 Although not entirely an investment app, you can save a few hundred bucks using the Clarity Money app. The app gives you a clear overview on where you're spending your money every month, detailing you exactly where your paychecks are ending up being spent. This app is great because, thanks to the overview, you can find useless subscriptions you're subscribed to that you have forgotten about. This can also be a great app for those who have multiple bank accounts because it combines all your transactions in just one app without you having to be opening up different bank apps to check your financial statements.
Learn more about Clarity Money at claritymoney.com
YNAB (You Need A Budget)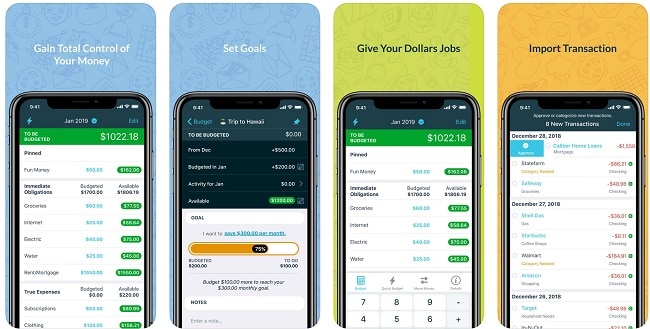 YNAB is one of the best budgeting app you'll ever find. The app as it describes itself, "YNAB will help you break the paycheck to paycheck cycle, get out of debt, and save more money. On average, new users save $600 in the first two months, and more than $6,000 in the first year. Try it free for 30 days." This app allows you to connect all your bank accounts in one place for an easy overview of all your banking transactions. YNAB offers a 34-days free trial. After that, you will have to subscribe to their $6.99 a month plan.
Learn more about YNAB at youneedabudget.com
Qapital: Save. Invest. Spend.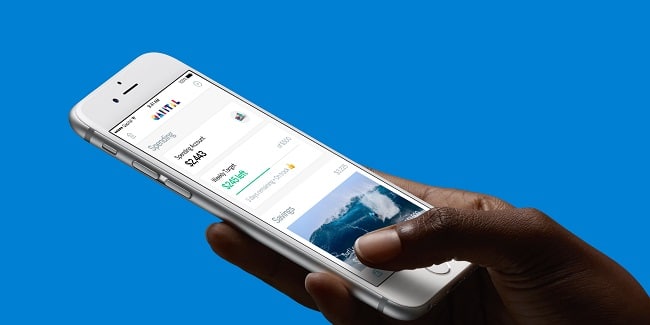 Qapital is one of the cleanest-looking investing app. The Qapital app is also very unique because it lets you set your own rules for savings. After connecting your bank accounts with the app, you will have the option of customizing your own rules with Qapital's IFTTT integration. You will then have the option of cashing out your savings or investing it in a stock portfolio.
Learn more about Qapital at qapital.com
Goodbudget Budget Planner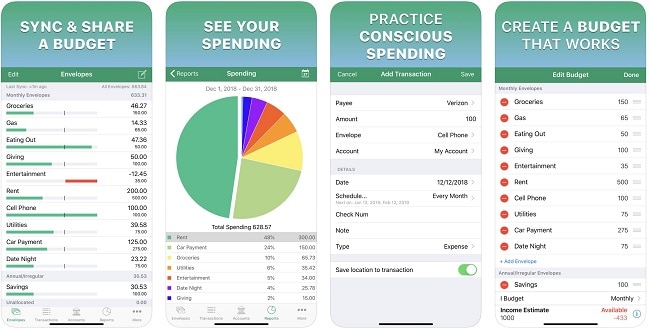 Another great app for managing your income is Goodbudget. One feature Goodbudget does great is syncing your budget across multiple devices. It uses a system in which they call "Envelope Budgeting." The system works by letting you fill virtual envelopes with your monthly expenses and categorizing each envelope with the type of expense such as food, transportation, and rent. With these envelopes, then you can track your spending habits across multiple devices such as Android, iPhone, or a computer web browser. By tracking your envelopes, you'll find out your unnecessary spending and cut back to save for a more adequate situation such as vacations or alcohol.
Learn more about Goodbudget at goodbudget.com
Splitwise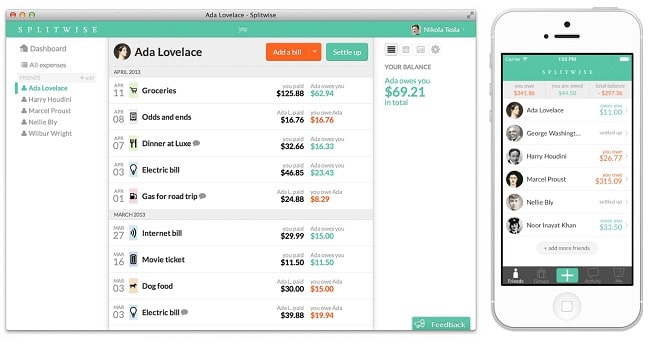 If you constantly have to share expenses with friends or relatives, to minimize problems between all of you, the best thing you can all do is download the Splitwise app.The Splitwise app is an app specifically designed to keep track of who owes what to whom. It let all of you keep track of apartment rent bill, or any added expenses. Everyone can log into the app to see their balance or add a new expense. The app is available for iPhone, Android, and web browser.
Learn more about Splitwise at splitwise.com
Personal Capital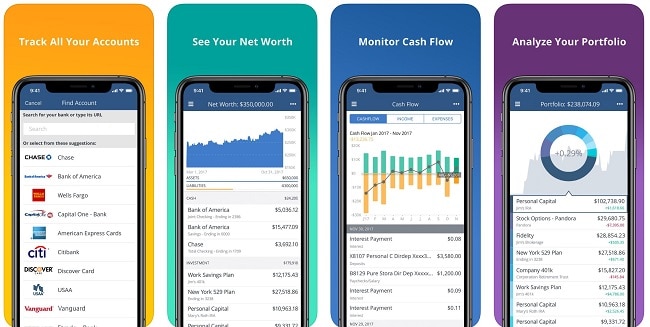 Personal Capital is one of the best app you can download if you want to have a clear overview of your financial life. The app lets you easily link up and combine all of your bank account, financial institutions such as Fidelity, Schwab, Wells Fargo and even local and regional credit unions. The app lets you create and follow a budget plan that allows you to find out if you're spending more than you're making. The app also lets you track your investment portfolios.
Learn more about Personal Capital at personalcapital.com
Albert: Save and Spend Smarter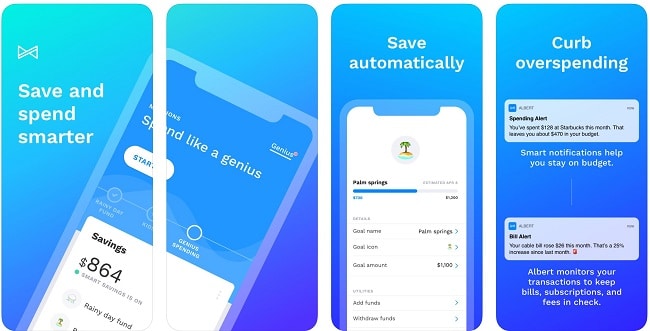 Like most other budget app, Albert combines all of your financial statements within the app by fetching the information from your bank accounts. Uniquely, the app offers a personalized financial plan. Another unique feature the app offers is alerting its users once a free trial of a service has ended. It also lets you know when a service is charging more than usual within a month.
Learn more about Albert at albert.com
Coinbase – Buy & sell bitcoin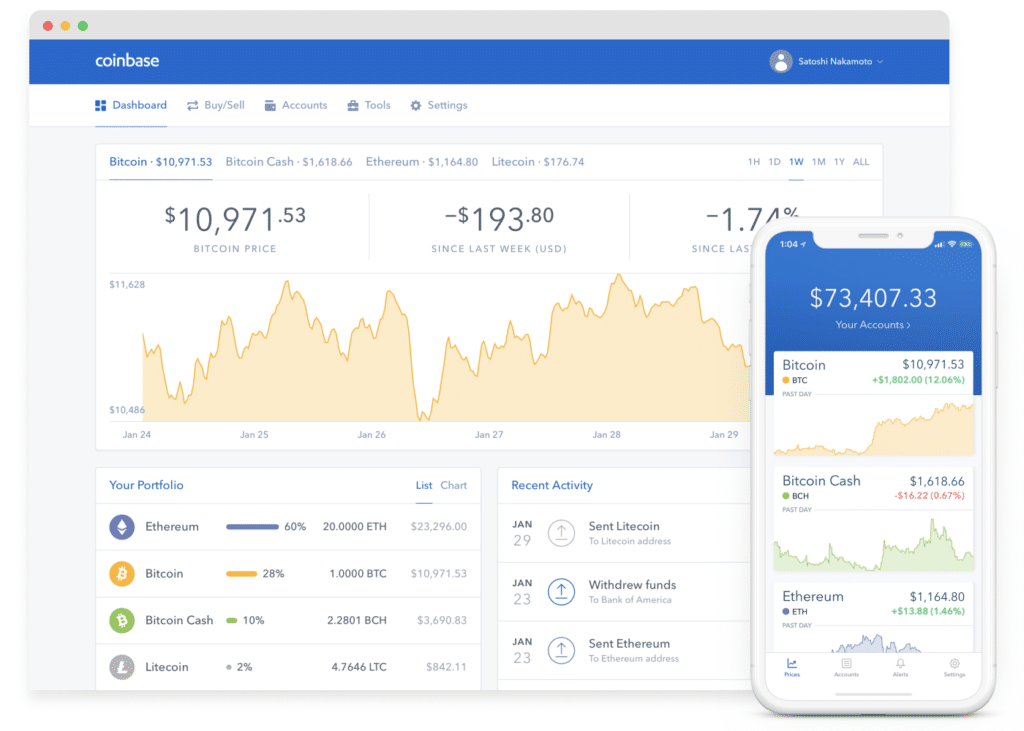 If have made up your mind and decided you want to invest some extra cash in cryptocurrencies, then the Coinbase app is the perfect app for that. Coinbase was originally developed as a Bitcoin exchange and as new cryptocurrencies started becoming more popular, the digital currency exchange app added the option of trading different type of cryptocurrencies. This app, after your account gets verified, allows you to instantly purchase cryptocurrencies. Coinbase currently lets you buy and sell Bitcoin, Bitcoin Cash, Ethereum, Ethereum Classic, and Litecoin. The app also lets you transfer your cryptocurrencies to your own wallet if you don't want them to be held in their online wallet, or in case you want to use them for something else.
Learn more about Coinbase at coinbase.com