Yeah, you see all of these talks on every tech website about iOS jailbreak, and hackers like Geohot, Comex, and others trying very hard to find a way of jailbreaking the latest iOS update. Well, if you own an iPhone, iPad, or iPod Touch and your device is jailbroken you probably know all the stuff you can do with your device after you jailbreak it and you'll notice how it wouldn't be the same if it wasn't jailbroken.
Here's why you should definitely try to jailbreak your iPhone if you have the opportunity of doing it.
1. Can completely redesign the home screen
Without a jailbroken device, you will be having the same home screen or SpringBoard no matter what you do, the only thing you are allowed to change is the background image.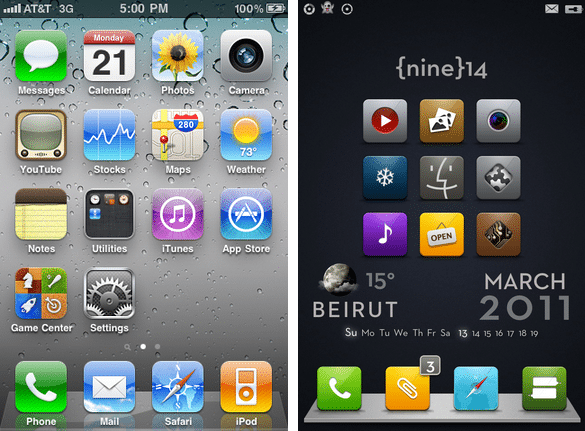 With a jailbroken device, you can make your device's home screen or lock screen look however you want it to look; you can add widgets, change icons or even add animated background.
2. iPhone can be carrier unlocked with jailbreak
With a non-jailbroken device, your AT&T or locked iPhone will not be usable with other GSM carriers like T-Mobile or Metro PCS. After you jailbreak your iPhone, you'll have the ability to unlock it using a tool called UltraSn0w. This tool is free of charge and can be downloaded from Cydia.
3. No tethering and restrictions
If your iPhone is not jailbroken and you want to use your iPhone's 3G internet data that you're already paying for on your computer, well you got to pay AT&T extra for that capability. With a jailbroken device all you have to do is download an app from Cydia and start using your iPhone data on your computer for free!
4. Try Free Full Apps before buying it:
As you might already know, there are a lot of worthless apps on the App Store that aren't free; they convince you to buy them but when you buy them and play them you realize that the apps are crap and it it wasn't worth.
Well, you can download and install full apps on your device for free before buying them from the App Store;  I personally don't condone piracy; so make sure you buy the App after you download it and play it.
5. Finally
There are hundreds of things you can do with your iPhone after you jailbreak it. So in my opinion, you should really consider jailbreaking your device and you will see how good it will be. For me, jailbreaking is an important part of the iPhone and iDevices, and I would've probably owned an Android device if it wasn't for the jailbreak community.